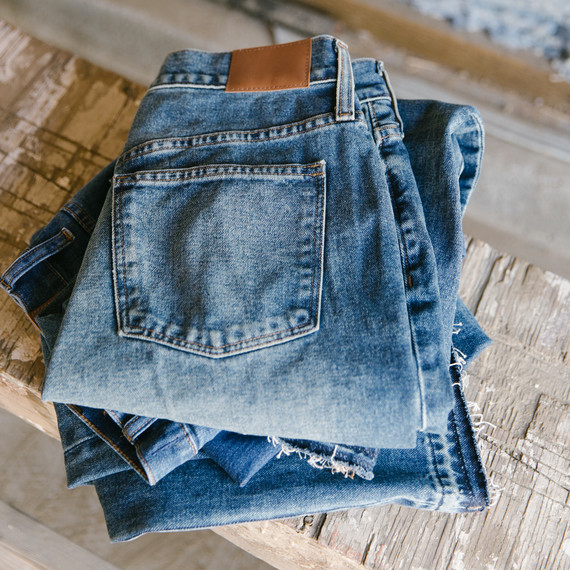 Whether you're swapping out summer clothes for the changing season, or still finishing up your "spring cleaning" (we won't tell anyone!), some retailers are making it easier than ever to recycle your old clothes. And as much as we love a good decluttering, recycling unwanted clothes is an environmental issue too. In the world of fast fashion, where trends consistently come and go, a whopping 10.5 million tons of discarded clothing ends up in American landfills every year. Talk about a trashy look!
Luckily, several shops you already know and love have "green programs" that reward you simply for bringing back old or unwanted items. These textiles can then be responisbly repurposed, reused, or recycled. Save the planet, and a few dollars? Yes, please.
MADEWELL
Have a favorite pair of denim you just can't bear to part with? Madewell is making it a bit easier with their Blue Jeans Go Green partnership. Since 2014, they've been collecting your old jeans of any brand and giving you $20 off a new pair. Collected denim is then recycled into natural cotton fibers which can be used as insulation for homes. Since the program launched, over 96 tons of waste has been diverted from landfills and over 190 houses have been insulated!
H&M
Thanks to this Swedish retailer's popular bring-back program, it's never been easier to go out with the old and in with the new. Simply fill up a bag of your unwanted clothes — any brand, any condition — and drop it off in-store for a 15% off coupon on future purchases. Once collected, the program partner I:CO sorts textiles into re-wearables, reusables, and recyclables. Curious about your old sweater's afterlife? Check out H&M's newest eco-friendly line, Close the Loop, which debuted earlier this month and features six (super-cute) denim staples made from post-consumer recycled textiles.
PATAGONIA
When it comes to saving old clothes from a life in landfills, the folks at this heritage outerwear favorite are all about options. Have old ski wear sitting at the back of your closet? Sell-back programs evaluate how much your old items are worth so you can cash out, or trade in items for credit on a new purchase, either new or secondhand. Just looking to fix a broken zipper? Free garment repairs are also available in-store or via mail-ins.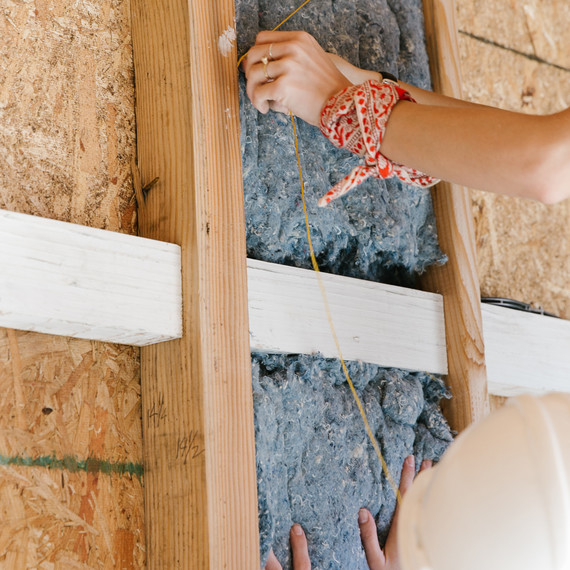 THE NORTH FACE
Rooted in sustainable practices — from lifetime product guarantees (a.k.a. less old jackets in landfills!) to chemical-conscious production — The North Face also invites you to recycle your clothing with their Clothes The Loop program. Drop-off old garments and footwear in any condition or brand for a $10 reward off your next purchase. Collected items are recycled and sorted into over 400 categories to be repurposed or reused. Plus, all program proceeds benefit The Conservation Alliance which funds community campaigns on a mission to protect the environment.
REFORMATION
This eco-conscious retailer (and makers of the dreamiest dresses ever) want to make recycling as easy as possible for you. Don't have time to drop off old items in-store? Their mail-in program offers free, printable shipping labels that anyone can download and attach to a box of to-be-recycled clothes. If you're already doing some online shopping, you can even request a label to be included with your order. This way, once you unpack your newest haul, reuse the box (double-score!), fill it up with old items, slap on the label, and stick it in the mail.
[CURIOUS: About Going Zero Waste? Here Are 8 Ways to Start at Home]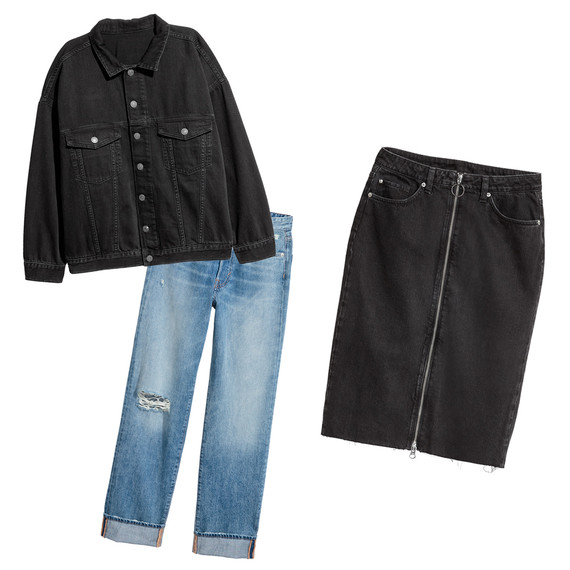 EILEEN FISHER
Since 2009, our favorite luxury knit store's Renew program has been working to close the fashion waste loop with a simple take-back program: bring back any old Eileen Fisher items, in any condition, and receive a $5 off voucher towards future purchases. Once collected these items are often given a second cycle through repairing and reselling (shop the exclusive Renew collection here.)  If clothes are not in a reusable condition, scrap fabrics are used to create entirely new pieces, or saved and recycled as raw materials.
J.JILL
These contemporary women's wear makers are not only going green, but, thanks to the J.Jill Compassion Fund, they've also been supporting community-based organizations that work with women in need since 2002. Part of this program, the annual Gently Worn event, invites you to bring back gently used clothing of any brand in exchange for a 30% off voucher (one per item recycled). And if you missed this year's drop-off dates, don't worry; there are still other ways you can get involved.