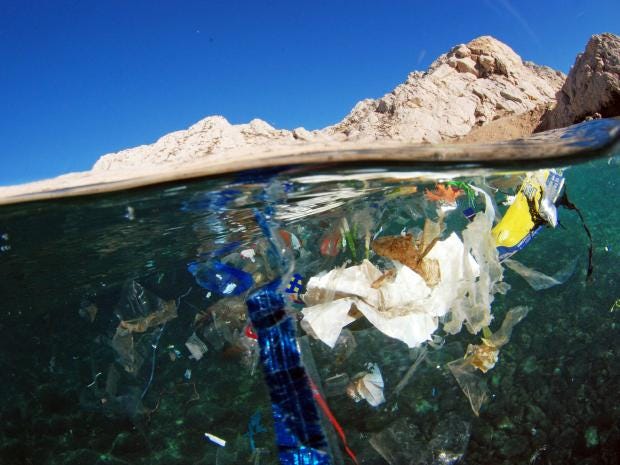 Off the coast of Catalonia, an intriguing experiment in the circular economy is taking place. Dozens of fishing vessels are heading out to sea and bringing back tonnes of plastic waste alongside their usual haul.
The plastic is then used as the raw material to make recycled designer sunglasses for Barcelona-based company, Sea2see.
Thanks to agreements with Catalonian port authorities covering 22 ports, the company helps fishermen across the region bring in around a tonne of plastic waste every three days.
READ MORE
Tide of plastic discovered floating off coast of Caribbean island
About 10kg of waste is collected for each pair of glasses it sells. Sea2see separates what it can use for the glasses and the rest is sold off to other companies for use in different processes such as manufacturing nylon thread.
More than 90 per cent of the material the fishermen collect can be recycled, though items such as metallic ship ropes prove difficult, the company's founder Francois Van den Abeele says. Usable plastic is reformed into pellets, which are then melted and used to make the glasses by Sea2see's partner in Italy.
"Fishermen have had a bad reputation for contributing to ocean pollution by discarding their nets, so they are really proud to be a part of what we are doing," Van den Abeele tells The Independent. "The aim is that everything that goes out to sea comes back to shore, which has not always happened before."
spain-carousel-05.jpg
Designer glasses made using recycled plastic
The nets that trawling boats frequently leave in the sea act as magnets for the 8 million tonnes of plastic detritus estimated to be thrown into the world's oceans each year. They create islands of waste that trap hundreds of thousands of sea mammals and fish. Plastic is also ingested by aquatic animals, such as sea turtles, who mistake it for viable food.
"I've lived a lot of my life by the sea, around the oceans," Van den Abeele says. "So I've been aware of the problem for some time."
Van den Abeele worked for many years making documentaries in places such as Angola, which at the time had just exited 30 years of civil war. "We went to places that had experienced really difficult times and tried to show the positive stories," he says.
As a filmmaker by trade, he admits that just a couple of years ago he "didn't have a clue" about the eyewear industry, but he knew he wanted to create a brand that had a social impact.
"I've got two kids and I see what's happening to the planet," he says. "Eyewear is a €100bn-plus industry with big profit margins. The whole product is made of plastic, which can take hundreds of years to biodegrade, and yet almost nothing is being done about sustainability.